From bathrooms to kitchens, living rooms and more, The Block is bringing back the curve
Not too long ago, the trend for architects, builders and designers was all straight lines.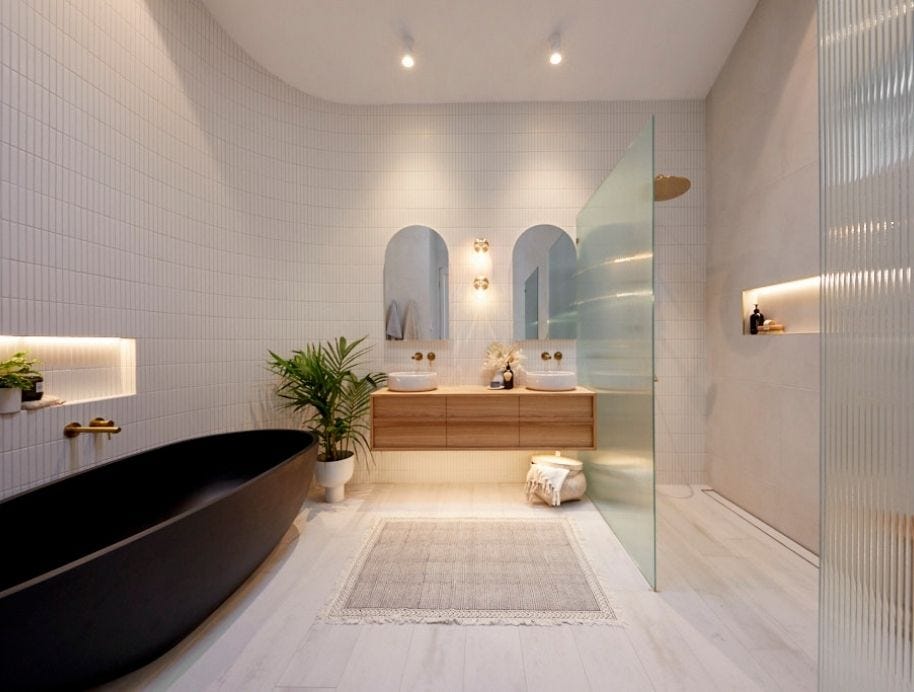 Luke and Jasmin leading the charge with their breathtaking bathroom incorporating a curved wall.


Borrowing heaving from the Scandi and Japanese influences, rooms were simple, clean and followed a minimalist rule that gave us uncluttered lives, but often at the expense of personality.
All that's changing, says designer Shaynna Blaze and the contestants at The Block – pun very much intended - are certainly ahead of the curve.
"If you had said to me 10 years ago that we would love a curved window or a curved wall, I would have said you're so wrong," Blaze says, "I thought that style would never come back! But here we are and I do love it!"
Leading the charge is Luke and Jasmin's breathtaking bathroom incorporating a curved wall and circular skylight to gives an organic feel and warmth to what is usually a utilitarian space.
In their kitchen, that theme is carried through to the wall that gently brings the rest of the house to the cooking and dining area and (controversially) under their benchtop.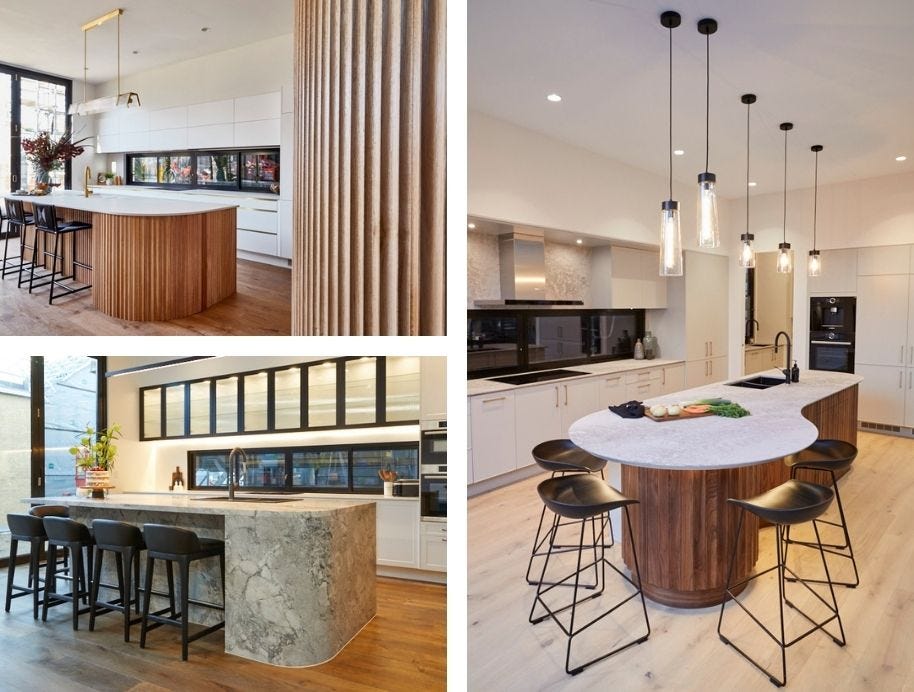 Those stunning curvy Block kitchens!! 


Daniel and Jade take that theme to the next level with the exquisite Christian Cole curved benchtop and dining area that's reflected in the living room wall, while Sarah and George softened their mammoth Dolomite stone island bench from master stonemason Fabian Notti with a curved corner.
And that's just a few of the touches spreading throughout the houses as the Blockheads embrace the curve and say "Scandi nah!" to the past.
"I think our new love of curves comes down to fact we had gotten quite monotonous with our architecture for a while," Blaze says
"I'm just putting it out there – when we were in that world of Scandi and that world of Japanese design where everything was structured with a lot of simplicity to it, everything was the same, everything was rigid.
"And then there came a real expression of OK, this is nice, but what else can we do? About two years ago we started to see some curves creep into things in answer to that, with doors and a few other pieces actually having some shape until now we're just seeing an explosion of curves and that's great."
Aside from the simple fact design fashions change, Blaze says there's a good chance our new love for softer living environments comes from the fact we're living in such uncertain times.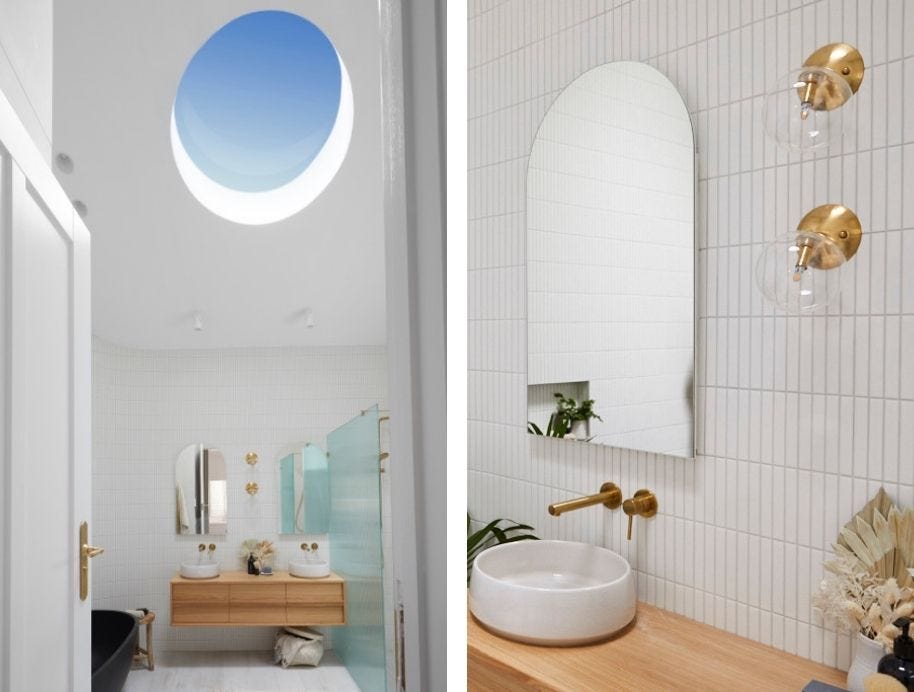 "About two years ago we started to see some curves creep into things," Shaynna Blaze tells The Block Shop. Pictured Luke and Jasmin's round skylight and arch mirror. 


Looking back through past trends (something Blaze, as an aficionado of design history loves), she says you can see times of uncertainty and adversity are often followed by a swing to softer, more curved shapes in almost a backlash to the austere.
"Now that we're in a bit of an unsure world, we're going a lot more organic," Blaze says.
"Organic shapes are a reflection of our nature and help us in feeling comfortable and not structured and I think a move toward that like we're seeing now has a lot to do with what the world is going through in the past couple of years."
And best of all, adds Block contestant Sarah, curves just look great!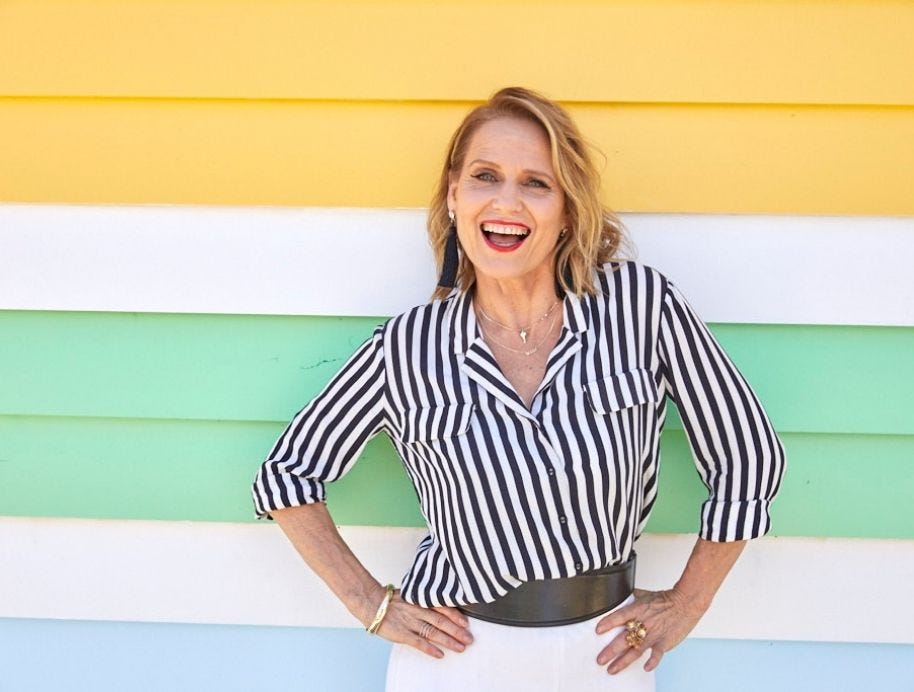 "Now that we're in a bit of an unsure world, we're going a lot more organic," Shaynna tells The Block Shop.


"I like them, they're pretty!" she says. "Mostly we wanted to put curves into our house because they look fantastic and I really enjoy the visual appeal of them.
"We've seen strong, pointy, square looking architecture in the home for a very long time and this is just something different that I think it's cool to include them!"

Source: The Block Shop